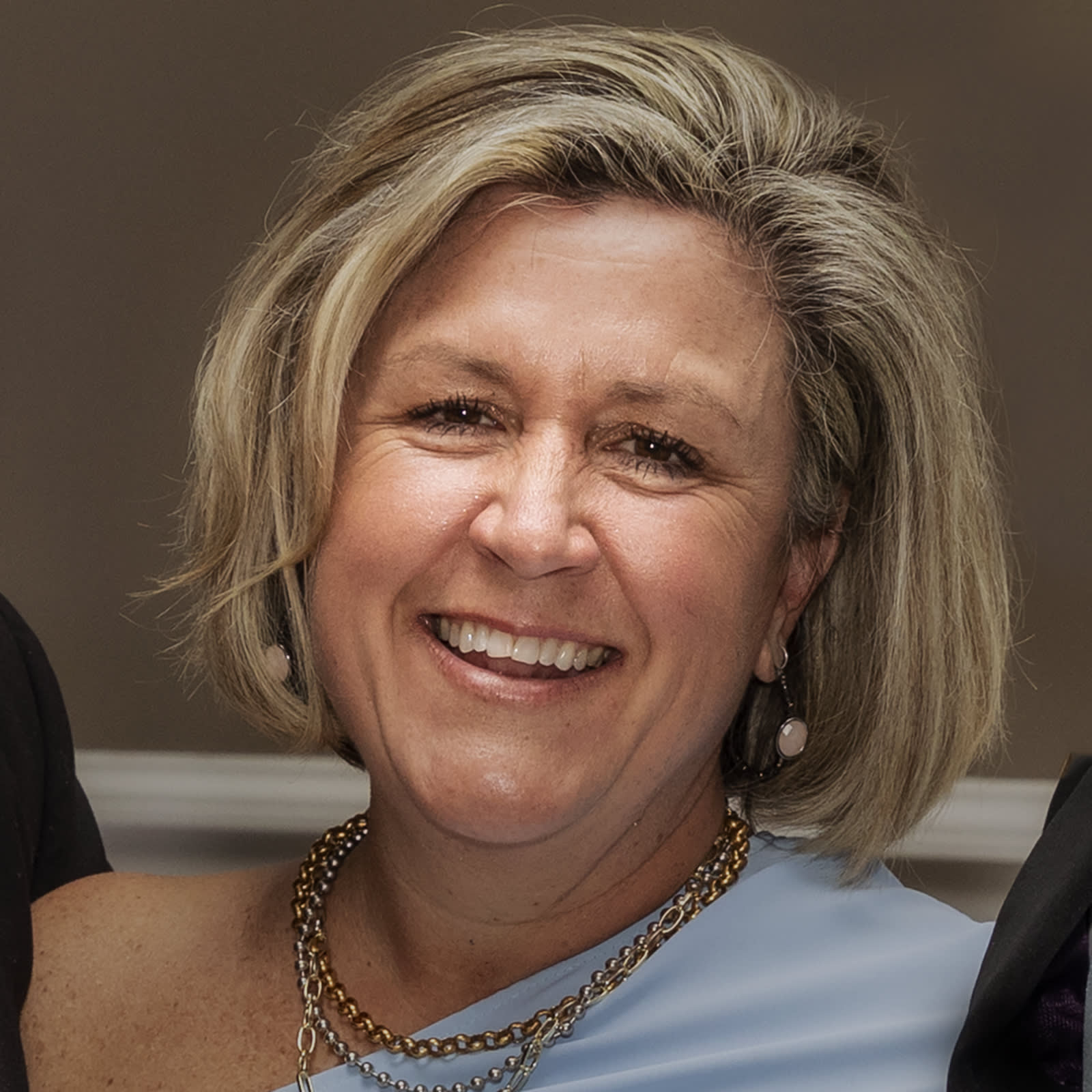 Message from Director of Alumni/Parent Relations
"To Lead is to Serve~To Serve is to Love"
This reflection is our school's theme for the 2021-2022 academic year. It is a visible reminder that our responsibilities to each other are rooted in love. As a community our intentions as Friars are to continue to be passionate learners, see God in all people, to find value in our friendships and ultimately accept the gifts of others as it helps us become the best version of ourselves.
Director of Alumni & Parent Relations
484-595-1103
Malvern Preparatory School Unveils The James H. Stewart IV Wall of Distinction
On Wednesday, September 15, Malvern Preparatory School unveiled The James H. Stewart IV Wall of Distinction during a school-wide ceremony. The Wall of Distinction is displayed in Malvern's St. Augustine Center for Social Impact because the building provides a location and programming for students to solve problems affecting humanity now and in the future.
The award is named to honor the legacy of Jim Stewart P'86'94 PT Hon, a member of the Wall of Distinction Committee who passed away in August of 2020, prior to the announcement of the inaugural class. Stewart joins an illustrious list of philanthropists, leaders, and exemplary figures, a group of individuals that he himself played a major role in selecting, including:
The Augustinians
Alan and Yvonne Ameche-Davis P'71'72'76'77
Brigadier General Curtis A. Buzzard '88
Joan Downs P'96'96'98
Charles "Chic" Kelly '88
James Murray P'88 GP'16
Don O'Neill '57 TE
The honorees are wonderful examples of selfless service to others and to the Common Good, which demonstrates the Augustinian Core Values of Truth, Unity, and Love – the hallmarks of the Malvern Prep experience. The James H. Stewart IV Wall of Distinction provides our community with role models to be celebrated, honored, and recognized so that our students know what positive leadership looks like and what social impact means.
Click here to learn more about the Wall of Distinction honorees
Click here to view photos from the Wall of Distinction unveiling
If you would like to submit a nominee for consideration of this award please contact development@malvernprep.org, using subject line "Wall of Distinction."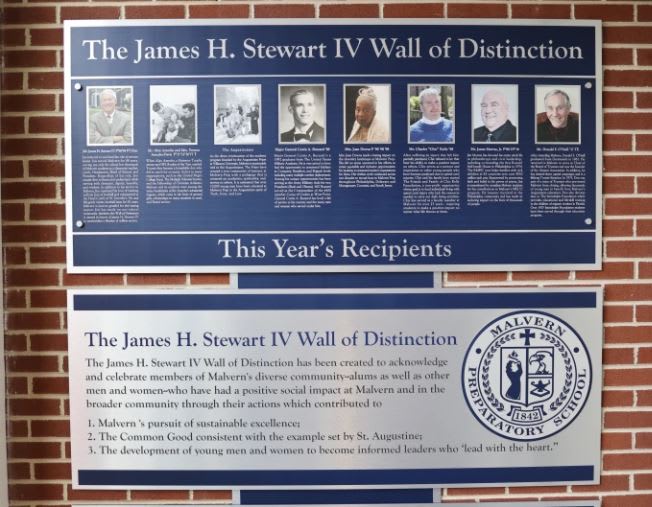 Head of School Search
For the latest information regarding the Head of School search, please click here
Malvern Prep Football vs. Archbishop Wood
September 18 at 1:00 p.m.
Franklin Field
Tickets can be purchased in advance online at this LINK for $10.00. Gates will open at 11:30 a.m. Spectators who have purchased tickets or plan to attend the game should be aware that vaccinations are required by Penn in order to attend the game. Concessions Stands will be available.
Alumni Reception (following the game)
Saturday, September 18th 3:30pm
New Deck Tavern
Address: 3408 Sansom Street, Philadelphia, PA 19104
There will be a post-game alumni reception at New Deck Tavern (a 6-minute walk from Franklin Field) for any Malvern Prep alumni in attendance at the game on 9/18.
MP will cover the first round of drinks and appetizers. We hope you can make it! If planning to attend, please RSVP to Mark Finlan.
Go Friars!
MP Alumni "Swag" Store
We are excited to offer an online store with MP Alumni apparel ranging from golf shirts, 1/4 zips, sweatshirts, baseball hats, and more. There are a variety of styles in both the Nike and Under Armour lines. The apparel can be ordered online by clicking this link and will be shipped directly to your home.
The store will be open until October 4, 2021. Show your MP Alumni spirit and get your SWAG today!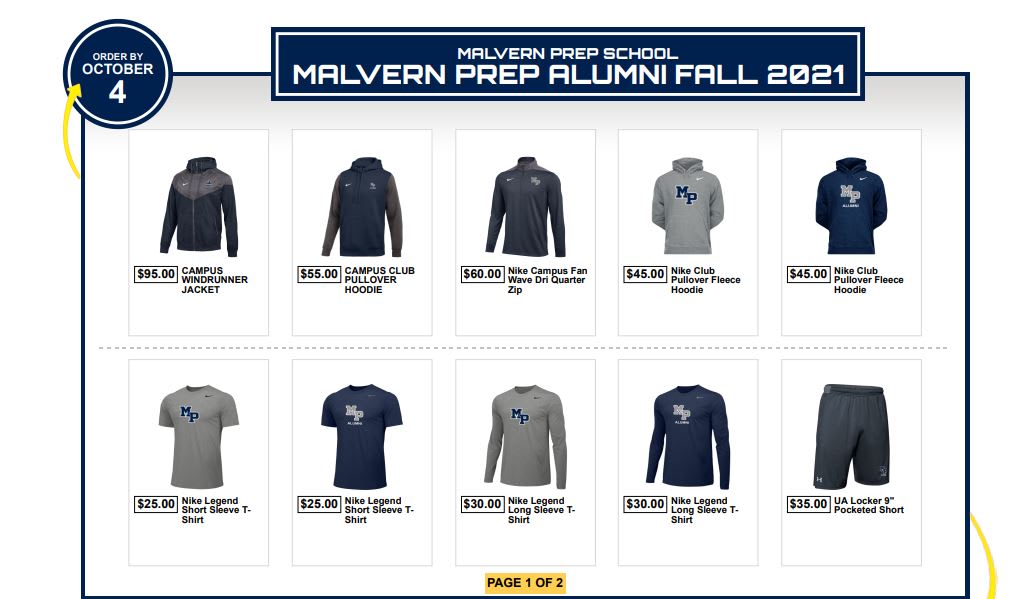 Alumni Golf Classic and Dinner
October 5, 2021
Join your fellow alumni at the beautiful Applebrook Golf Club for the 37th Annual Malvern Prep Alumni Golf Classic & Dinner on Tuesday, October 5, 2021.
Don't miss this opportunity to spend the day with your fellow Friars. Only 5 foursomes remain!
To register as a player visit: malvernprep.org/alumnigolf.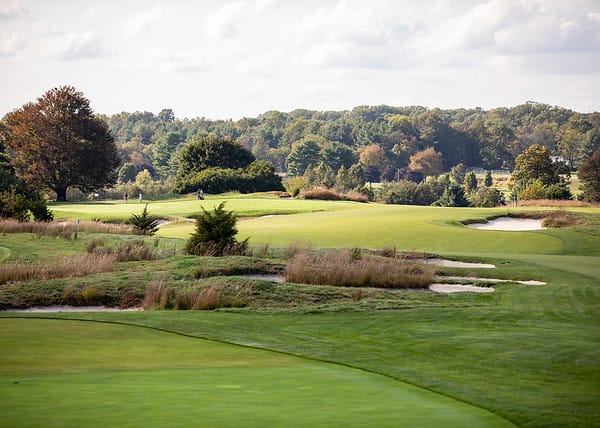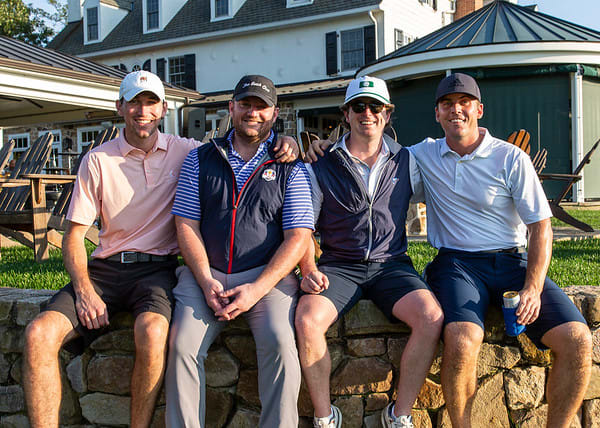 Homecoming Weekend 2021
Homecoming and Alumni Reunion Weekend
Friday, October 15 - Saturday, October 16, 2021
The Malvern Prep Alumni Association cordially invites you and your family to our annual Homecoming and Pig Roast on Saturday, October 16. Join us for an afternoon of first-class athletic competition and Friar fun.
Friday, October 15 Schedule
Alumni Awards Ceremony - 6:00 p.m. Duffy Arts Center
Class of 1960 Reunion - 6:30 p.m. St Augustine Center
Class of 1961 Reunion - 6:30 p.m. St Augustine Center
RSVP online by October 6 for your Reunion
Saturday, October 16 Schedule
Water Polo Match vs. William Penn Charter: 12:00 p.m. in O'Neill Sports Center Natatorium
Varsity Football Game vs. William Penn Charter: 1:00 p.m. Quigley Field
Pig Roast: Begins at the start of the 3rd quarter of the Football game
Homecoming Mass: 5:00 p.m. Our Mother of Good Counsel Chapel
Reunions
Class of 1970: 50th Reunion - 6:30 p.m.
Class of 1971: 50th Reunion - 6:30 p.m.
Class of 1996: 25th Reuion - 6:30 p.m.
All Classes ending "1" and "6" Reunion- 6:30 p.m.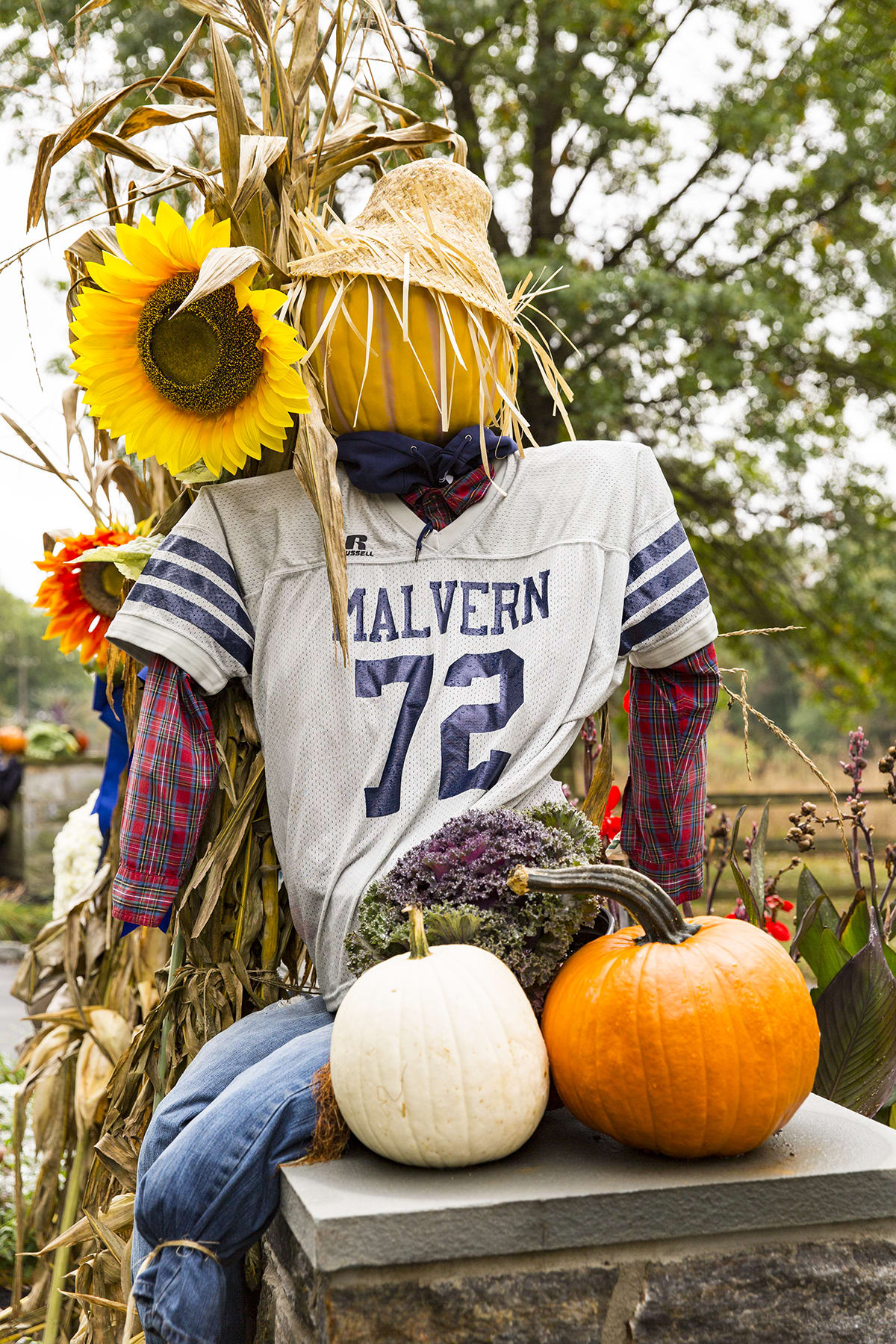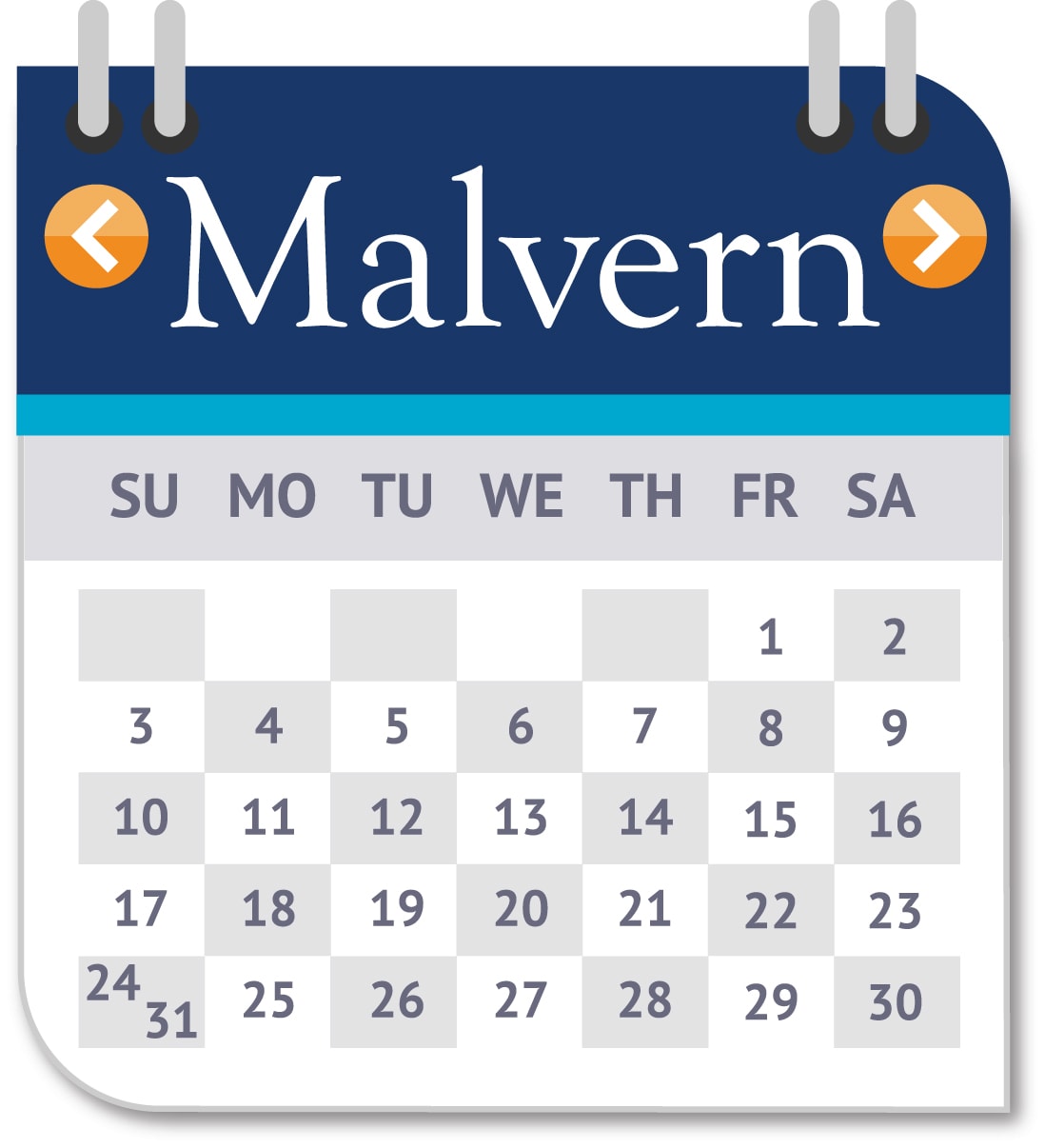 Upcoming Alumni Events
Save the Date!
November 3, 2021
New York City Regional Event
The Penn Club
This event is open to anyone in the area including alumni, past parents and friends of Malvern Prep. More details will be available in the coming weeks. If you have any questions please connect with Mary Fran Frankenheimer P'21
November 30, 2021
Giving Tuesday
The Malvern Theater Society~ 2021-2022 Season
We look forward to seeing you back in the Duffy Arts Center this year. Here is the lineup of our High School performances for the upcoming school year. Stay tuned for more details in the coming weeks. We hope you can make it back to campus for a performance.
Catch Me If You Can
November 5-6, 12-13 at 7:00pm

Seeking fame and fortune, precocious teenager, Frank Abignale, Jr., runs away from home to begin an unforgettable adventure. With nothing more than his boyish charm, a big imagination, and millions of dollars in forged checks, Frank successfully poses as a pilot, a doctor, and a lawyer – living the high life and winning the girl of his dreams. When Frank's lies catch the attention of the FBI agent, Carl Hanratty, Carl pursues Frank across the country to make him pay for his crimes.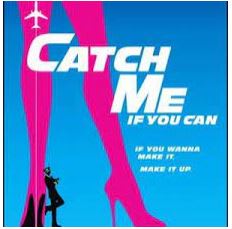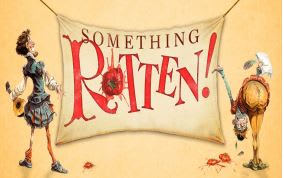 Something Rotten!
March 4-5, 11-12 at 7:00pm
Set in the 1590s, brothers Nick and Nigel Bottom are desperate to write a hit play but are stuck in the shadow of that Renaissance rock star known as "The Bard." When a local soothsayer foretells that the future of theatre involves singing, dancing and acting at the same time, Nick and Nigel set out to write the world's very first musical. But amidst the scandalous excitement of opening night, the Bottom Brothers realize that reaching the top means being true to thine own self, and all that jazz.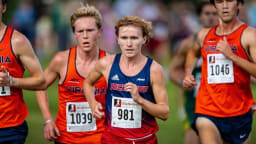 Congratulations to Peter Borger '18 on being named the Atlantic 10 Conference's Performer of the Week.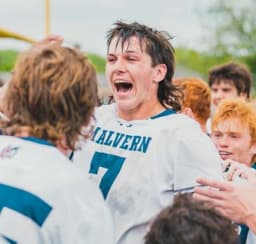 Congratulations to Eric Spanos '21 on being named the Phillylacrosse.com Co-Player of the Year for 2021. 
Recent Malvern Prep graduate has launched a Travel Sports Consumer Guide called LENZ. Matt Wray '17 co-founded the platform after spending the last 6 years of his life in the industry.
Malvern Magazine, Summer 2021
Please enjoy the digital version of the Malvern Magazine for Alumni, Parents & Friends that was recently mailed home. If you did not receive a copy in the mail please be sure to reach out to Mary Fran Frankenheimer to be sure your contact information is updated.